For some functions the SeqSphere+ Client needs an Internet connection. A complete list of the required connections is available on page Network Connections.
If the connection to the Internet fails, it may be necessary to change the proxy settings in the SeqSphere+ Client. Therefore choose from the menu bar Options | Preferences and click on Proxy server in the list.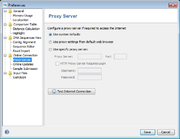 The proxy configuration has three different modes:
The default proxy settings of the operation system is used. This is the standard value.
Use proxy settings from default web browser
Uses the proxy settings of the default browser (e.g. Internet Explorer or Firefox). This option can be used if the first one does not work.
Use specific proxy server
Configure the proxy server host name, port, and user account manually.
The button

Test Internet Connection can be used to test the current settings.

Hint: Please note that the proxy settings are saved in the preferences of each Windows/Linux-user account. If other users on the same computer are using the SeqSphere+ client, proxy settings must be set for each user.

Hint: When Internet Explorer is the default browser and a PAC script is configured, it may be necessary to uncheck the box "Automatically detect settings" in the settings of Internet Explorer.