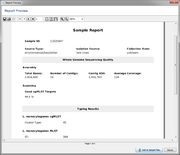 A printable Sample report can be created for each Sample.
Open a Sample and click on the Results tab in the right panel. The results tab lists the main query result fields with the values for this Sample. The Report Comment field below can be used to store additional comments that also appear in the sample report.
Use the button Create Sample Report to create the report for this Sample.
The report contains different sections:
A short summary with Sample ID and basic epi metadata
The Whole Genome Sequencing quality related fields (e.g., average coverage and percentage of good cgMLST targets)
The genotyping results sorted into the different Task Template applications (i.e., Typing, Resistance, Virulence)
The procedure details (e.g., read length and assembling parameters)
The created report can be exported as file (PDF/DOCX/ODT).
Press

Add to Sample Results to create a PDF from the report and attach it to the Sample. The attached reports are shown on the top of Results tab. The PDF is then stored together with the Sample in the database.