Software Features
Try our Ridom StaphType software for fast and accurate typing of methicillin resistant Staphylococcus aureus (MRSA) isolates within 24 hours!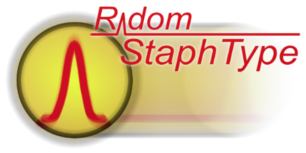 DNA sequence editor

Reproducible, highly discriminatory and portable single locus sequence typing scheme based on Staphylococcus Protein A (spa) gene repeat sequences.

The highly customized Ridom StaphType software reads ABI- and SCF-chromatogram files and automatic detects spa-repeats and -types. In more than 90% of all cases no further manual sequence editing is required.

Database

Personal data (encrypted) and relevant epidemiological information can be stored locally in the database system incorporated in the Ridom StaphType software.

Information from the database can easily be exported and imported in comma-separated spreadsheet format.

The integrity of the database is checked regularly and the contents can be backed up to prevent data leakage.

Report generator

Reports can be created with various configurations using Ridom StaphType. These reports are stored internally as read-only, tamper-proof and encrypted PDF files.
MRSA-NIS Reports can be created for use in MRSA surveillance.

Synchronisation

To ensure usage of a uniform code terminology, Ridom StaphType synchronizes transparently either directly via the http-protocol or file based (e. g. via e-mail attachment) with an accompanying website that functions as an operative source for all new spa-types and repeats.
Requirements
1 GB RAM
Hard disk with at least 2 GB available
USB port for hardware key (Dongle)
Microsoft Windows 10 / 8 / 7
FOR RESEARCH USE ONLY.