Managing the List of Server Definitions
When Ridom SeqSphere+ has started up, it shows a login dialog.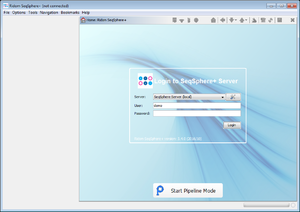 To configure a SeqSphere+ server connection, press the Server Options button on right of the drop down box.

This will open a new dialog window Manage Server Definitions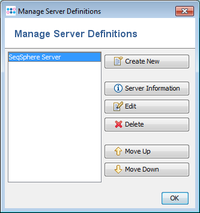 From here you can Create New and also Edit, Delete, or Get Server Information about existing server definitions.
Create New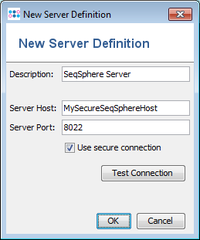 A sever description, host, port and secure connection can be specified here. The host and port refer to the network location where the SeqSphere+ administrator has installed the Server software.
It is recommended to use a secured connection (HTTPS) due to the necessity of your data's security. The unsecured connection should only be used when the secured connection cannot be used because of local network settings (port 443 must be open).
If you are unsure of the specific server settings or any requirement of a proxy server, please contact your administrator for assistance.