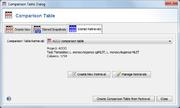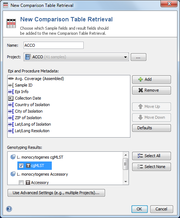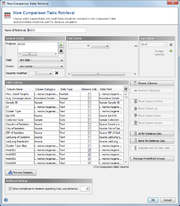 A Comparison Table Retrieval defines a selection of Samples (e.g., a whole Project) together with a selection of metadata fields. It can be stored and used as a blueprint for comparison tables. If a comparison table is created from such a retrieval, it is always created from the current data in the database (in contrast to a Comparison Table Snapshot).
Select

Tools | Comparison Table from the menu to open the Comparison Table dialog and select the third tab Stored Retrievals to create, open, and manage Comparison Table Retrievals.
Press the

Create New Retrieval button to open a dialog that allows to choose a Project, Epi and Procedure Metadata Fields, and Genotyping Schemes that should be included in a Comparison Table.
To specify Sample search criteria, to select Samples from multiple projects, or to select only part of all project Samples for a retrieval, the button Use Advanced Settings can be pressed to open a more complex search dialog. This dialog is also opened if a stored Comparison Table Retrieval is later edited via the Manage Retrieval button. This dialog allows to edit all details of a Comparison Table Retrieval:
A name for the retrieval must be defined
The General, Field and Tag Criteria sections allow to define exactly which Samples should be searched and included into the Comparison Table
The Preview Samples button can be used to get a preview of what Samples are found by the selected criteria
The Table Columns section show all metadata fields that are used as columns in a Comparison Table. The Choose Columns button can be used to add or remove columns. The Move buttons can be used to change the column ordering. The columns Column Name and Column Category can be edited by double-clicking into a table cell. The names and categories are used as column labels in the Comparison Table
The Distance Calc column and the three Distance buttons allow to choose which fields are used for distance calculation in the Comparison Table
The Manage Color Groups button can be used to define the color group column and add a predefined list of color groups
Complex highlighting and the distance for the complex visualization in the minimum spanning tree can be specified here